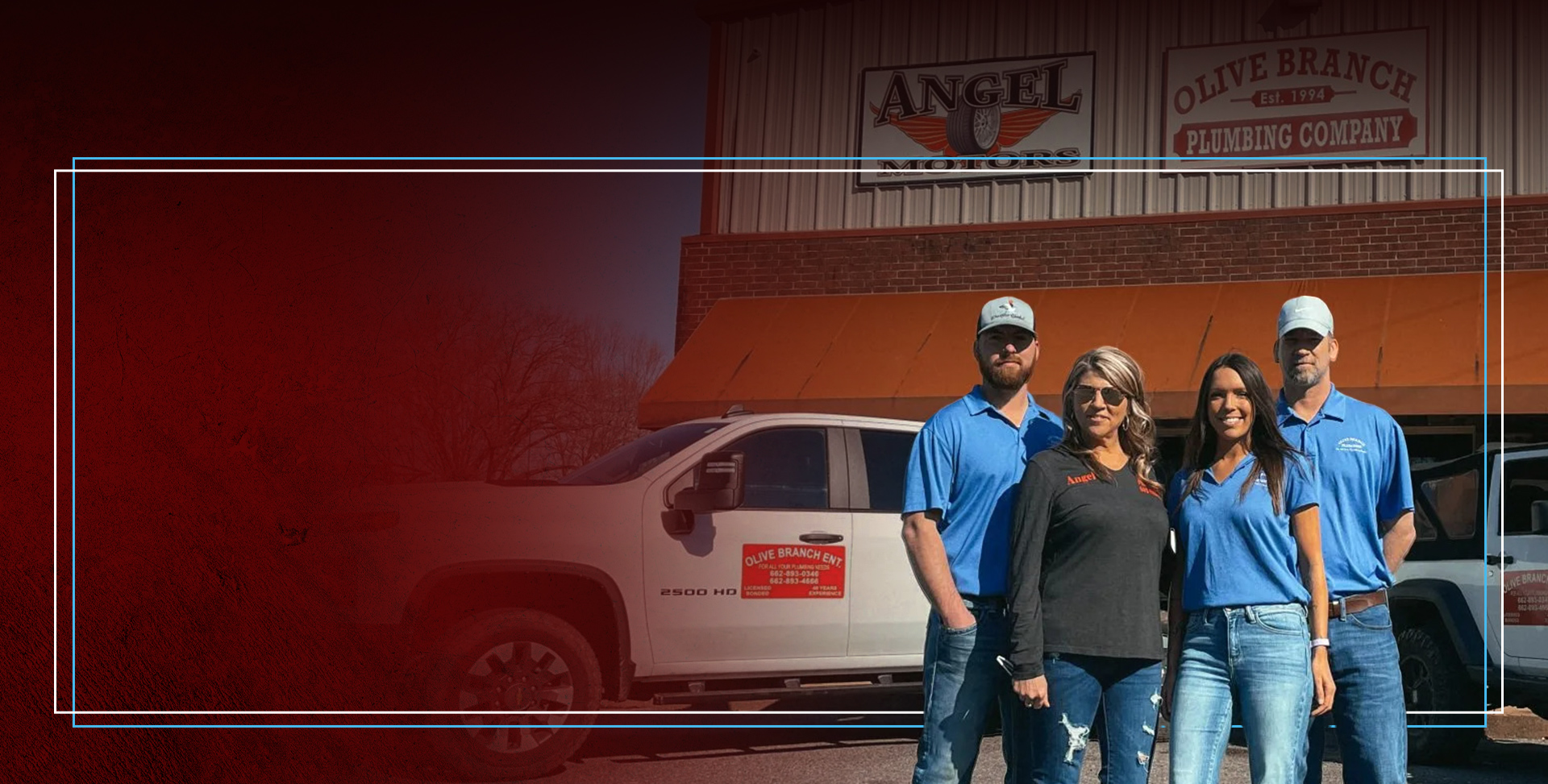 Professional Plumbers in Olive Branch, Mississippi
DeSoto County and Shelby County's One-Stop-Shop for Honest, Safe, and Effective Plumbing Solutions
Is something wrong with your water heater? Are you interested in remodeling your kitchen or bathroom? Come to Olive Branch Plumbing Co. for all of the fast, effective, and affordable plumbing solutions and services you're looking for. We're a family of licensed, bonded, and insured plumbers with decades of experience, and we're ready to help you with any issue, big or small, that's plaguing your plumbing system. We even offer commercial services to help your business or enterprise succeed.
Our company is defined by our three core values – safety, honesty, and professionalism. When you come to us for your plumbing services, you can expect high-quality work, transparent pricing, and an experience that leaves you feeling secure and confident in the state of your plumbing system.
Request an estimate from the plumbers at Olive Branch Plumbing Co. today at (662) 729-0846 to get started!
Our Professional Services
Family Owned and Operated Since 1994
Since the day we first opened our doors, Olive Branch Plumbing Co. has been a family of plumbing professionals dedicated to helping our fellow Olive Branch families keep their homes safe, clean, functional, and comfortable. As a family owned business, we understand what you look for in a plumber, and we aim to meet and exceed even your highest standards. We aren't interested in one-time services – we want to build relationships with our customers and make sure that they and their families are taken care of throughout their lifetimes.
See why countless customers have been making Olive Branch Plumbing Co. their go-to plumbing team for decades. Call (662) 729-0846 for an estimate!
Why Choose Olive Branch Plumbing Co.?
We're Licensed in Arkansas, Tennessee & Mississippi

Over 30 Years of Experience
Affordable and Experienced Plumbers
For over 25 years, Olive Branch Plumbing Co. has been helping our neighbors find effective and long-lasting plumbing solutions that fit within their budgets and meet their families' needs. We're known for our transparent and straightforward prices. Our plumbers don't work on commission, so they'll never try to push you towards products or services you don't need. The only things you'll get out of your experience with Olive Branch Plumbing Co. are real solutions, great service, and honest answers.
If you're looking for safe, effective plumbing solutions at honest and affordable rates, Olive Branch Plumbing Co. is the plumber for you. Call our Olive Branch office at (662) 729-0846 or contact us online today to schedule service in DeSoto County or Shelby County!
"Used Olive Branch Plumbing to Re-Pipe the entire system from the meter and throughout the house, and install two gas lines. Jeff and Ben were great to work with. They were efficient in installing the new piping and getting things back up and running."

Michael R.

"I was beyond pleased with this service. Not only were they able to get me in quickly, they started on time! The repair was fast, they had to get a part and it was still fast. I called and gave them praise and they have to come back for other repairs!"

Tahiarah M.

"Olive Branch Plumping has consistently responded the same day and always gets the job done on time and on budget. I can always count on OBP when I need plumbing service and very impressed with their professionalism and responsiveness."

Matthew O.

"Fast, efficient, and reliable service. I highly recommend this company for your plumbing needs."

Darius F.

"The technician was courteous and arrive in a timely manner. He was able to quickly ascertain the issue and repair it within 30 minutes! I was pleased with the customer support representative who took my service call."

Tina F.